Welcome To Your Best Skin
Natural performance skincare
Welcome To Your Best Skin
Natural performance skincare
Welcome To Your Best Skin
Natural performance skincare
CUSTOMER SERVICE AND QUALITY ABOVE EVERYTHING
Product reviews and testimonials
"That stuff is awesome. I just ordered a ton of it, and I use it every day. It's my main soap now."
Joe Rogan
"Defense Soap very strong product, very strong. We use it in our room and it's in our showers everyday and it has cut us a huge break in the way of staph, ringworm and you know the mat herpes. As a preventative its been a major staple in our training regimen for recovery for taking care of our body & hygiene. That's important and appreciation to them. Normally I don't do that but it's a very strong product.
Terry Brands
2x world champion, Olympian
I wanted to share my story with you. I am a parent of a wrestler. I suffer Scleroderma and Lupus. I have had weeping wounds that NOTHING cleared up for 5 years. I have tried many antibiotics, antibiotics for a month straight, cremes, pills, etc…nothing helped. I started using your liquid soap on the weeping wounds and within 3 days they no longer wept. They are actually drying up. A month later, I am almost free of any lesions and they grow smaller everyday noticeably. Your soap is a miracle worker! I showed this to my dermatologist and my Rheumatologists who both immediately went to computer and opened you site to investigate ingredients. They also told me they had other patients they would be recommending this to. It is amazing that over 5 years I lived with weeping wounds and within a month, they are gone. God bless you and your soap.
Cynthia T.
Birmingham, Alabama
My son is on the mat at least four times a week. Before he started using Defense Soap he had ringworm three times in two years. He also contracted a nasty staph infection which required outpatient surgery. Since he started using Defense Soap a year ago… nothing. As long as we are involved with combat sports, we will NEVER stop using Defense Soap. I can't thank you enough."
Kevin S.
Wrestling Coach, proud wrestling parent, Defense Soap fan
I'm a big fan of Defense Soap, and always keep a bunch in stock. However, you may want to know that you could probably sell this soap to more than sports fans. I am not a wrestler and have absolutely no interest in wrestling or other contact sports — I use Defense Soap because I have skin that tends to get infections and rashes by normal airborne fungi. My doctor recommended regular use of prescription ointments (since there is no cure), but I found that daily use of Defense Soap is a simpler, better, over-the-counter way to keep it under control.
Mark M.
My son tried a sample that an Army recruiter had in an Army goodie bag at his high school and saw an improvement by the next day!! He is a sophomore in high school, plays Varsity football and got MRSA a few weeks ago for the first time, well it came back again (it wasn't severe either time, a couple on his legs), but the Defense 2 oz gel cleared a lot of his facial acne overnight and improved the MRSA on his legs also. Glad the ARMY recruiter had samples, now I have to tell his doctor so they can recommend this to their patients also. Merry Christmas and Happy New Year to you and your family!!!
Melissa
High School Sports Mom
I have been a Defense Soap user for two years and I am very satisfied. I use this product for Bicycling for the treatment and prevention of saddle sores. I ride my Trek road bike as much as I can and a couple years ago had to deal with saddle sores. I tried a variety of over-the-counter solutions as well as products prescribed to me by my dermatologist. These didn't seem to work and in fact, in some cases, made matters worse. I decided to go a more natural route and tried simply using Defense Soap immediately after each ride (along with gold bond powder). I found this to be a very effective and natural solution. I highly recommend trying Defense Soap.
John M.
Avid Cyclist
"Defense Soaps is an excellent product and I have used it to prevent my acne and reduce the appearance of sebaceous cyst on my skin from over product oil glands within the hair. The water in Vegas leaves your skin dry and your product helps to keep my skin from breaking out."
Brandon H.
Las Vegas
Guy, wanted to share some great news with you. the products you sent are working great on the ringworm, but the really incredible thing is: I have had this extremely painful ugly rash on my elbows and surrounding area for over 7 years. In that time I have tried everything you could imagine. Diabetic lotions, over the counter lotions, prescription lotions and nothing cured it. I put the Defensive salve on twice and the rash is almost completely gone but the most wonderful news is that the pain is gone. What a product. Thanks again. I can't wait to see what else this wonderful product will help.
Donniece
At my wits end as to what to do about my skin, I ordered a bar of Defense Soap to try. I have been plagued for over 4 years with a spot of prurigo nodularis on my left cheek. The Dermatologist tried ointments and shots of cortisone to no avail, and I was finally told that it would have to be removed surgically. I could not bring myself to have my face cut and possibly make the area look worse. After applying Defense soap I noticed almost an immediate improvement, and as of today the area is about 1/3 the size that it was. I am very encouraged to see any improvement and am elated that the area has gotten smaller than I anticipated. I have tried many OTC medications, but this is the first one that 'actually' did any good. I am so thankful I found your website! Perhaps your company should investigate and test this product on others who have this same condition. Again, Thank you so much!
Mrs. Neila B. V.
Over 1,000 verified reviews on Amazon with 80% giving us 5 stars.
MEDICATED BAR SOAP WHEN YOU NEED IT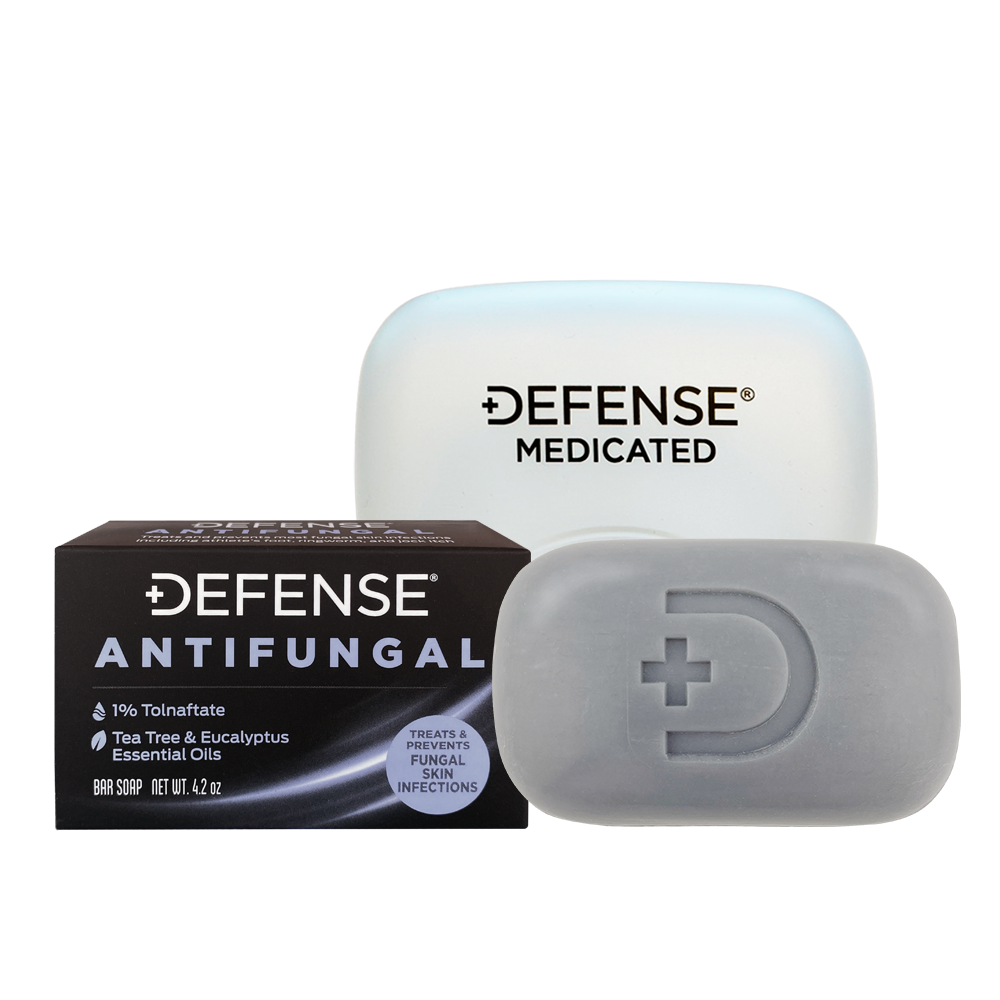 Our original bar with an FDA approved anti-fungal agent
Our medicated bar treats most fungal infections including:
Ringworm

Athlete's Foot 

Jock Itch
Sign up for our Defense Soap Newsletter