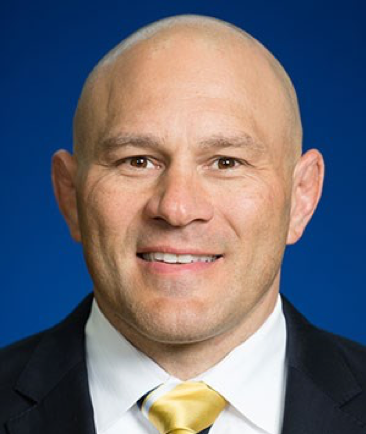 Sean Bormet was named the head coach of the University of Michigan wrestling program in 2018 and is heading into his second season in this role after spending seven years as the top assistant. Bormet has coached 14 different Wolverine All-Americans since his return to his alma mater and a fifth-place finish at the NCAA Championships in his first season as head coach. Prior to U of M, Coach Bormet was an esteemed U.S. World and Olympic team coach, a three-time recipient of the USA Wrestling Freestyle Coach of the Year Award, and was named the USA Wrestling Developmental Coach of the Year.
Q1: You have some incredible coaching accolades over the last 20 years and are heading into your second season as the Head Coach at the University of Michigan. What appeals to you most in this role and what are some of the bigger challenges you've seen compared to coaching internationally with the US National Team?
A1: Most everything I am doing now as the head coach at Michigan appeals to me because the stakes are high, it is incredibly competitive, and all aspects of the program have to be operating at the highest level. The main challenge is the scale of leading a Big Ten program today, since so much has expanded, from communication, recruiting, and alumni engagement, to regional training centers and fundraising.
Q2: You've set the standard for private clubs with the Overtime School of Wrestling. This was really the first model that other coaches have emulated for years. What gave you the motivation to start your school and why do you think this model has been so successful?
A2: My motivation was really to create an independent coaching situation where I could control my income and focus my energy, knowledge, and experience as dedicated time for training wrestlers on the mat. That, combined with an intense entrepreneurial spirit to learn, be innovative, improve and build, and you have the basis for why Overtime was established.
I think a lot of wrestlers have an entrepreneurial spirit, are passionate about our great sport, and want to pass on their knowledge and experience. However, NCAA coaching positions are limited. So running a club, whether large or small, can be a viable outlet to have a positive impact on the sport, increases opportunities for wrestlers of all ages to develop, and generate an income for coaches outside traditional college positions.
Q3: You have been named the USA Wrestling Freestyle Coach of the Year, coached Olympic medalists and NCAA champs, and honored as the USA Wrestling Developmental Coach of the Year. What has been the biggest contributor to your success and what advice would you give to coaches trying to make the impact you have?
A3: Be totally invested in the relationship you have with your athletes, set the standards high, be dedicated and consistent in your approach, be innovative, and always seek ways to improve and hone your craft within the developmental aspects of wrestling and as a coach.

Coach Bormet celebrating with Westshore Wrestling Club alumnus, Domenic Abounader, after achieving All-American status
Q4: What kind of experience does Michigan provide to a Wolverine wrestler from an academic, facilities, and athletic perspective? What do you look for in a recruit in making them a part of your program?
A4: The University of Michigan is exceptional in its pride, culture, academic and athletic prestige, alumni support, and resources. Our academic and athletic balance is second to none. As a Michigan wrestler, you will be a part of a special family with every opportunity to succeed on the mat, in the classroom, and beyond. In the recruiting process, we look for young men with high character that love to train and compete and want to be a part of something special that will last a lifetime. Whether it is Olympic champion, NCAA champion, and/or Big Ten champion, that is what we work and strive for.
Q5: You have coached at all levels and have experienced a great amount of stress in all of them. What has been the most challenging round for you over the years?
Blood round at Tulsa Youth Nationals with 100 kids running around trying to keep track of them

Blood round at NCAAs when emotions are extremely high and one match determines All-American status or nothing at all

Blood round at the World Championships or the Olympics, the biggest stage for our sport
A5: Well, definitely not Tulsa or any youth event, LOL!  At the NCAA and International level, I have actually never thought of coaching in those rounds or events as stressful. Of course, there are nerves and adrenaline at times, but that is just excitement. Those moments with an athlete are a special gift. For me, the greatest challenge and any stress points are in the planning and preparation (training). As a coach, you want to be sure your athletes and team are as prepared as they can possibly be to win. This is a daily process and that is where I like to keep the pressure on myself, the staff, and our wrestlers.
Q6: A little known fact is that you are the FIRST Defense Soap reseller in the history of our company through Overtime. How did your relationship start with them and how has it continued over the years?
A6: I was fortunate to meet Guy Sako early on when I was at St. Eds and around the wrestling circuit as I was in the start-up phase of establishing Overtime.  I liked everything about Guy and sensed right away that he was one of the "good guys" in our sport. I was right about him and our friendship has endured for almost 20 years.
Running an elite gym with anywhere from 80-120 wrestlers training in multiple practices nightly, cleanliness and personal hygiene were essential and a major emphasis for our staff and with our wrestlers.  I connected with Guy's philosophy, believed in the Defense Soap ingredients, and started implementing the soap with our staff and wrestling families right away. The products vastly outperform every other product I have tried over the years as an athlete and a coach, so we use it among our staff and athletes today at Michigan as well. Now my daughter plays travel field hockey, which is a turf sport, and she also uses the full line of products at home and on the road. Defense Soap is simply the best!